Stretchable Film

REACTIS™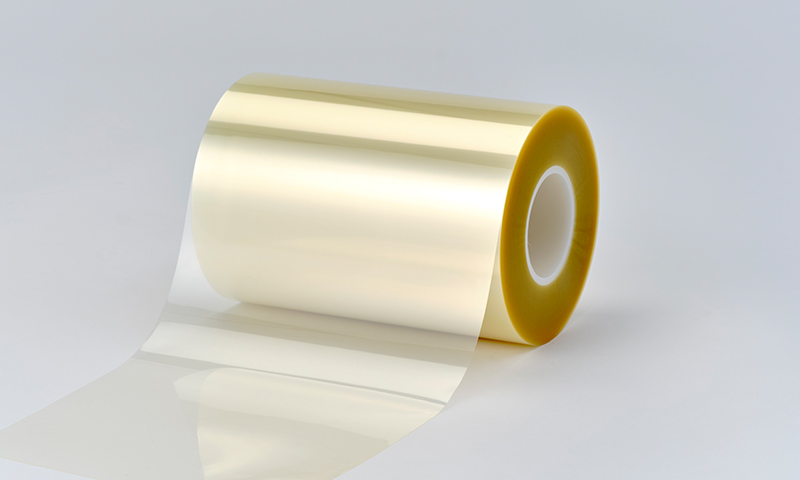 REACTIS™ have both easy stretch and excellent recovery characteristics.
REACTIS™ is developed by utilizing unique polymer design and film manufacturing technology to achieve the unique characteristics of outstanding soft and recovery after deformation by stretching. The film also maintains the stretch and recovery characteristics from low to high temperature range. Moreover, the film surface can be processed to match numerous applications as it has high temperature resistance, printability (adhesion) and enables optimum surface design.
Click Here for Technical Document
Image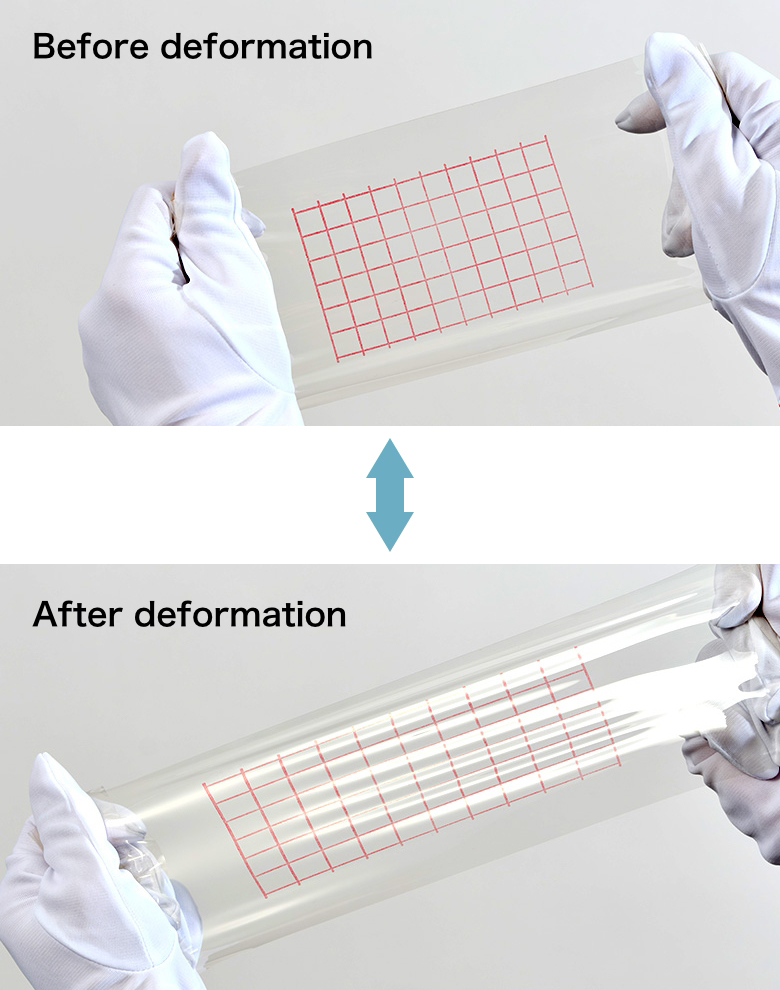 Structure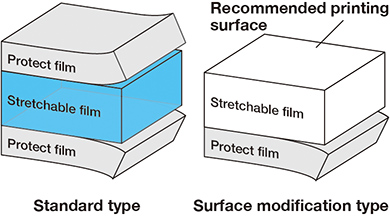 Thickness of stretchable film : 30~100um.Pleas contact us about different thicknesses.
Feature
Recovery after stretching
REACTIS™ maintains recovery characteristics even after stretching.
Test method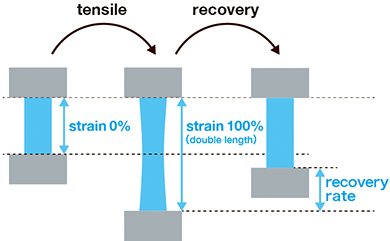 | | Recovery rate |
| --- | --- |
| Thermoplastic polyurethane | 92% |
| REACTIS™ | 97% |
Result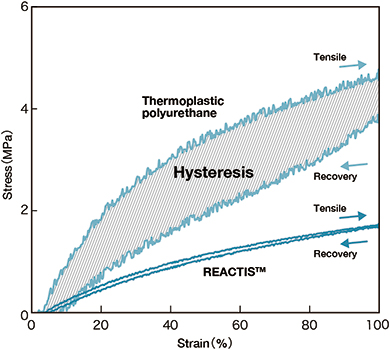 All the data are not guaranteed and are provided for reference only.
Heat-resistance
The film has low size change ratio with heat condition, it can be processed to match heat process.
Appearance change(after 200℃ 5 min heated)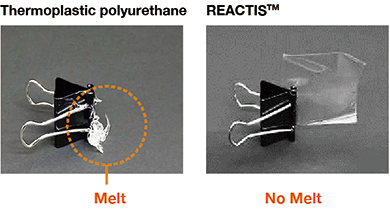 Print properties
Surface design of REACTIS™ can be optimized to match with required printing such as screen or inkjet printing.
Print example
Stretchable silver paste
(Screen printing)
Applications
Display material
Sensor material
Automotive material
Wearable device material
Actuator material
Cabinet material
tape substrate
Shock absorber material
Manufacturing process material
Biocompatibility unconfirmed
General property
Standard type
Surface modification type
STR1
STM1
Thickness
μm
50
100
50
100
Mechanical properties
Young's modulus
GPa
0.003
0.003
0.003
0.003
Stress (100% strain)
MPa
1.8
2.0
2.0
1.8
Elongation at break
%
400
400
400
400
Tensile strength
MPa
12
12
12
12
Recovery rate (100% stretch)
%
97
97
97
94
Optical properties
Transmittance*1
%
93
93
89
89
Haze*2
%
0.7
1.5
95
95
Surface properties
Roughness*3 Sa
nm
8
N/A
600
N/A
Other properties
WVTR*4
(40℃-90%RH)
g/m2/24h
1,810
1,100
N/A
N/A
*1 JIS K7361-1(1997)
*2 JIS K7136(2000)
*3 ISO 25178-2:2012
*4 JIS Z0208(1976)
All the data are not guaranteed and are provided for reference only.
This is the data measured for stretchable film without protect film.
This document include the information of prototype.
The type name or properties may change without notice.
Click Here for Technical Document
REACTIS™ List